Happy Anniversary!!
Tuesday, February 22, 2011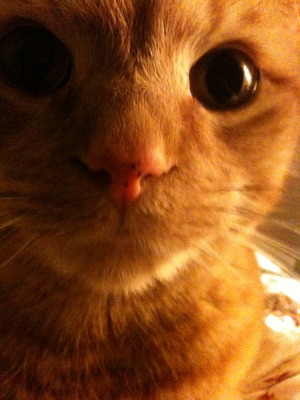 Eight years ago today, I brought Jeremy home. I got him for my second cat, Annie. Annie was a very playful and persistent kitten. She would not leave Lucy and Mucky (Akita Chow mix who is in doggy heaven now) alone, and was driving both of them completely crazy. I called my vet and asked him what I should do, he suggested I get her a playmate. That day, I went to Buddy Dogs, where I adopted Annie, and found Jeremy. A very handsome orange Tabby.
He is very sweet, never hissed at anyone. Amazingly agile, can bounce off walls. And a lady's man. He likes to lie on my chest and touch my face with his paw.
Happy Anniversary to Annie's handsome boy toy, Jeremy!