Pretty and cute!
Tuesday, July 26, 2011
World's best litter box!!
Tuesday, July 26, 2011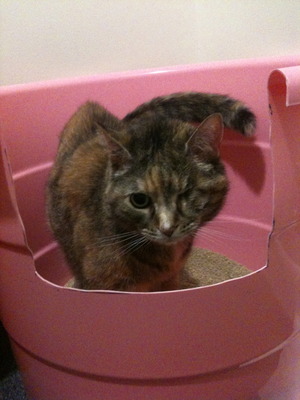 Lately, Annie, her majesty, has not been happy with the litter boxes. While searching on the internet, trying to find a better litter box for her, I came across this article, "The Litter Box from Your Cat's Point of View". Read it, you will learn a lot!

http://catinfo.org/?link=litterbox

"The bigger the box, the more inviting it will be for your cat." Instead of purchasing conventional litter boxes, Lisa suggested we can use storage container boxes. I went looking for one, and did not really like any of the storage boxes out there, they were big and cumbersome. Then I came across a "rope handle tub" for storing toys, 16.5 in H x 21.5 in diameter. Cut a door opening 9 in x 9 in, 8 inches from the floor, again suggested by Lisa.

Annie could not be happier! :)

P.S. Don't worry, she's just modeling in this picture...