Oh look, here's the eleven 5-star reviews Yelp filtered :/
Thursday, January 10, 2013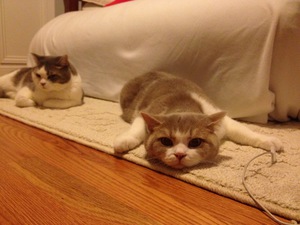 When Tomato heard that Yelp filtered 11 of our reviews, he fell flat on his face.

I copied and pasted them here because I really appreciate my clients took the time to write them.....
Plus they are AWESOME reviews!!! Thank you so much!! You guys are amazing!!!!

Gnb O
5.0 star rating
1/9/2013
I highly recommend Urban Paw Print. My partner and I left for 4 days over the holidays and ask Caroline to take care of Oli, our diabetic cat, who needs twice daily shots of insulin. Caroline came over a week before our trip to learn how to give his shots and get to know our little guy. Immediately upon meeting her, we knew we had made the right decision to chose Urban Paw Print. During our trip, she sent us daily pics to show us that Oli was doing well, which really helped us stay at ease during our trip. She even saved the day and moved our car during a snow emergency!! Thank you Caroline!

Monica D.
Boston, MA
5.0 star rating
10/26/2012
Caroline is our sitter of choice and the only one we trust whenever we need to be away from home! She is a sweet, loving and caring person and our spoiled cats totally love her. Sometimes we don't know the date of our trip until one day before traveling and Caroline always find the time to take care of our babies. She always send a picture of our cats after each visit, and being able to look at their adorable faces while we are away is priceless. Overall we can not say enough good things about Caroline, we are so lucky to have her in our lives !

Boston M.
Ames, IA
5.0 star rating
9/17/2012
Urban Paw Print and Caroline are top notch! She recently took care of my two cats and did an amazing job. Before I left on my trip Caroline came over and met the cats and took detailed notes as to their needs while I was gone. While I was out of town, Caroline sent me several pictures of the kitties each day which was so fun. Then when my fiance and I got home the cats didn't seem to have even missed us! My fiance joked that they looked disappointed to see us and not Caroline! Plus, Caroline brushed the cats so much during the time we were gone, their coats have never looked better! I can't say enough great things about my experience with Urban Paw Print. I will certainly call again in the future next time I need a cat sitter!

Deirdre I.
Boston, MA
5.0 star rating
9/10/2012
Like so many other reviewers, I have only wonderful things to say about Caroline and Urban Paw Print. I have a very friendly cat named Frank and he means the world to me. I was a little dubious at first about the idea of a cat sitter and until this spring he had always gone to the cat hotel (aka the vet) when I was away. Frank, however, despises the MBTA and always gains a disturbing amount of holiday weight when he stays at the vet, so I decided to try it out. I found Urban Paw Print from the myriad stellar reviews here on Yelp. Very rarely do 5-star yelp reviews live up to their claims, but I have to echo everything that's been said here - I cannot imagine a better cat sitter than Caroline. She really is as good as it gets. She came over initially to meet Frank. He immediately took a shining to her (and her bag!) and she made me feel comfortable by asking lots of questions about Frank, his personality, what he likes to do, what he eats, etc. It was fantastic to find someone who so clearly genuinely cares about the animals she looks after. Caroline has visited with Frank a number of times over the past few months and I'm able to enjoy my time away knowing that Frank is in the best hands. I love that she sends an email from each visit with a brief note on what they did and an awesome photo. (Seriously, she should charge for pet photography, I'd be first in line!) If you're looking for a cat sitter and you want the best one in town, then there's really only one place in Boston that fits the bill: Urban Paw Print is truly the cat's meow.

Mary L.
Boston, MA
5.0 star rating
1/14/2012
Caroline is a trustworthy, reliable and amazing pet sitter. She has an understanding of each individual animal's needs. When I first contacted Caroline she came right over the next day, met my cats and took notes. While I was on vacation, I received a photo and message as to how the cats were doing after each visit. One of my cats has special medical needs and Caroline even went above and beyond what a regular pet sitter would do. This is not just a job for Caroline, it is her passion.


Kristin C.
Boston, MA
5.0 star rating
9/7/2011
I highly recommend Urban Paw Print. Caroline takes great care of our cat. She checked in on him multiple times while my husband and I were on vacation and sent a note and picture after every visit. Our cat is scared of everything and everyone, but Caroline took the time to play with him and his favorite toy and to give him the attention he needed while we were away. In addition, Caroline is reliable and trustworthy. We will be using her often in the future.

Kari B.
Boston, MA
5.0 star rating
5/17/2011
I highly recommend Caroline with Urban Paw Print. She is incredibly responsive, organized, and most importantly, she seems to really love my 2 kitties. I love that she emails me right after each visit along with a fun picture of one of them, and will sometimes blog about them too. And whenever I've needed her, she's always been available - great at checking in and following up. It's comforting to have someone as good as Caroline taking care of my guys when I'm away - I always know they're in good and lovable hands :-)

julie s.
Boston, MA
5.0 star rating
5/13/2011
Coco, my cat, has warmed up to Caroline quicker than any other sitter. I love receiving quick notes and pictures each time she visits Coco. If you want a sitter who really cares about your precious pet, Caroline at Urban Paw Prints is the one!

Whitney R.
Somerville, MA
5.0 star rating
12/28/2010
I cannot say enough good things about Urban Paw Print! Caroline is absolutely amazing with my two cats and I am convinced she is a real life "cat whisperer." Our older cat, Oliver, tends to be a bit shy around new people but amazingly he went right up to Caroline and let her pet him before she even took her jacket off. Caroline took such good care of our cats while we were out of town that I would call her up again in a heartbeat!

Jill P.
Boston, MA
5.0 star rating
10/29/2010
Urban Paw Print is wonderful! Caroline is a very diligent pet owner, herself. She has taken the time to get to know my very "needy" dog who came from a background of abuse. Caroline is very patient and is truly wonderful! Urban Paw Print is great, and I would highly recommend them to anyone who wants to feel comfortable that their pets are well-cared for and safe.

Pam B.
Boston, MA
5.0 star rating
10/25/2010
I met Caroline while she was walking another dog in my building. I had just brought my puppy home and needed to find a dog walker for a few days a week. She immediately put me at ease and I knew she was someone I could trust. Caroline loves all of her clients as they were her own. She is kind and caring and the dogs love her very much.
After each walk, Caroline sends an email update to let you know how your dog behaved, what they "did" on their walk and what activities they did during playtime. She also sends you pictures each week, which was the icing on the cake to this already wonderful experince.
I cannot recommend Urban Paw Print and Carolline highly enough.
If you are new to Boston or have a new puppy, Caroline is the Best in Boston as far as I am concerned.