Urban Paw Print's pick - cat litter mat
Thursday, June 16, 2016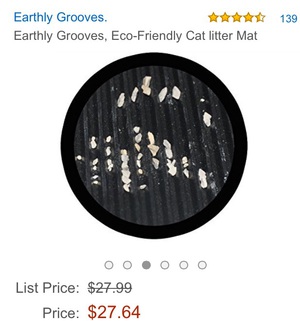 If you are like me, you've probably been searching for the perfect litter mat.
I have spent over hundreds of dollars and bought different kinds of mat. The most expensive costing me $50.
A lot of the mats are pretty good at tracking. It's the cleaning that gets tricky.

I think I have finally found It!
It's extra large and I put it in front of my two litter boxes.
I'm just going to post their description here for you to read:


Description
The best mat for a cleaner house and a happier cat!

The Earthly Grooves, Eco-friendly Cat litter mat is made from 100% recycled rubber. It has grooves designed to feel great on your cat's paws while gently cleaning any litter from them. The groove design ensures that you don't have to worry about cleaning up scattered litter off the floor anymore! The grooves are easy to clean too! They are shallow enough to vacuum, rinse, or shake off! trapper.
Never worry about pet odors or stains again!

-The impermeable rubber that the mat is made from prevents any liquids or solids from soaking into the mat and causing lingering odors or stains. Save your carpet, hardwood, and tile from lasting scratches and damage from litter. Keeping this mat clean is as easy as taking it outside and giving it a rinse!
-They work well with older cats with bladder issues by catching everything (liquids or solids).
-No Stains.
Feel good about your environmental pawprint!


-The Earthly Groove pet mat is manufactured from recycled rubber that was once used for tires!