Our Duddy cakes
Wednesday, October 24, 2018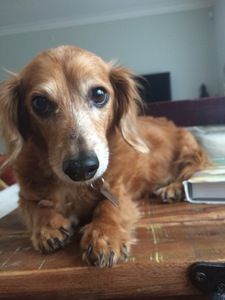 We said goodbye to our very special Colby aka, duddy cakes.
He was diagonsed with cancer in three places a year ago, we decided to go the holistic way which I believe gave us all this extra time with him.
He is the heart of our family, he keeps everyone in place, including when it is time to go to bed.
He tried to kill every single intruder coming into the house by barking them to death.
He is bossy, funny, cute and a big piggy.
He grew up with 3 cats and thought he was one of them until 3 years old when Bailey showed up.
He learnt to "meow" for his favorite treat, greenie.
We love you forever and ever and we hope you will be our baby again in another puppy's body.
When you come back, we will only feed you the best raw food, no more kibbles no more processed food.
We miss you every day.
Our crazy bum bum.