What not to do when...
Monday, August 26, 2019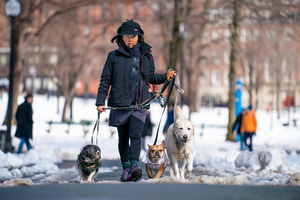 This photo was taken by a random photographer last winter. My friends told me I look fierce, and have that "don't mess with me" face.

That's right I don't want anyone messing with my pack.

Common mistakes people make are:
- barking at us.
- petting my dogs without asking. Letting them sniff your hand will not stop them from biting you.
- "oh no, dogs love me!" even though I told them my dog is not friendly.
- letting their dog come over to meet my pack. Some of my dogs might not react well to a stranger (dog).

Let's just pretend you see a pregnant woman pushing a stroller with a baby inside. Would you go touch her belly? Make crying baby sounds at her baby? Put your baby in her stroller so your baby can meet her baby? No, no and no, right?

Well the same rules apply when you meet a dog walker. Also bear in mind, we are there to do a job, to let the dogs get potty breaks and exercise, not for show and tell. It is best to let us be.

You are welcome to take pictures, and please ask before approaching us.

Thank you. Have a nice day!!