11 reasons why you need to hire us because of COVID.
Tuesday, March 30, 2021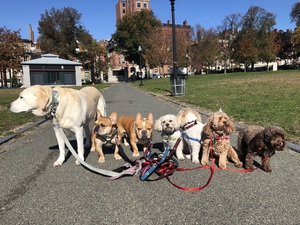 Even though they may have been staring at your for the past hour, you deserve a proper lunch break instead of worrying about going for a walk.
You bought a puppy or adopted a dog during COVID. Best to be prepared for when you return to the office.
We are currently taking on new clients! Sign on now while we have space in the schedule.
Dogs love their friends, and our group walks prioritize and are catered to their personalities and needs, whether they like to run around off leash with friends, or take it slow to stop and smell the roses (or, smell...whatever).
For the past year, you've been with your dog 24/7. As much fun as that might have been, they need to get readjusted to going for walks with their walker so they won't have separation anxiety later on.
You will be more productive at work knowing that your dog is happy and well exercised.
Future travel and boarding - get them used to us now so that when you travel, they are excited for boarding or having us stay with them.
Socialization - your dog might have gotten shy or scared of people and dogs because they are no longer used to seeing them. Let us help them reacclimate to the outside world.
Dogs need lots of brain stimulation by exploring and sniffing around to avoid getting bored and develop strange behaviors.
You got a new dog, hired a trainer early on, but we help reinforce good behavior with daily practice.
We are a small local business, and have been in Boston for over 11 years. In that time, we have developed very close relationships with our clients. We are like their pet concierge and personal assistant. Support local businesses! We go above and beyond to give you and your pup a worry-free experience full of care and attention.
We look forward to hearing from you!!