Hello everyone!
Thursday, July 15, 2010
Life is one big adventure. My life has definitely become a very interesting adventure since I started Urban Paw Print. It has been a lot of hard work, huge learning curve, addressing my weakest strengths, meeting brilliant, smart, wonderful, motivated individuals who eventually became my friends. I feel blessed that I am able to do what I am passionate about on a daily basis and I just want to share that with you all.
"When we give it our all, we can live with ourselves - regardless of the results." Zig Ziglar
My second Dragon Boat Race!
Thursday, July 15, 2010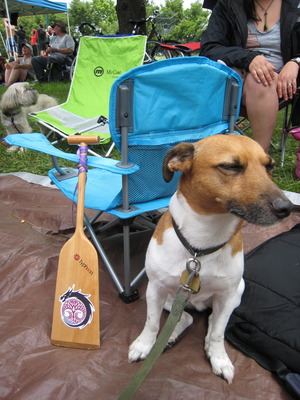 This blog is being re-posted by Bailey. He wrote this back in June 2010.

It was the Boston Hong Kong Dragon Boat Festival this past weekend. I got to be my mama's team mascot. Everyone on her team loves me. They had tons of food and kept feeding me when my mama wasn't looking. Baxter, my buddy was there too.

My mama's team had two boats, the Blue Boat and the Red Boat, and they kicked major ass. My mama was the drummer on the Red Boat, she was so fierce. I am so proud of her. They did really well, they got into Division A Minor and Division B Major and raced with the best teams. They did not win any medals but the season has just started. I think they are going to do really well at Montreal. Too bad I won't be going to that race. One thing I am not excited about is I get left behind sometimes. I want to race with her, one day I would like to be the co-drummer for the Red Boat.