Happy Anniversary!!
Tuesday, February 22, 2011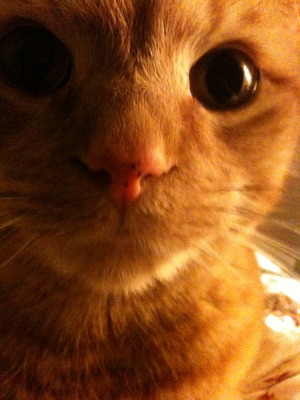 Eight years ago today, I brought Jeremy home. I got him for my second cat, Annie. Annie was a very playful and persistent kitten. She would not leave Lucy and Mucky (Akita Chow mix who is in doggy heaven now) alone, and was driving both of them completely crazy. I called my vet and asked him what I should do, he suggested I get her a playmate. That day, I went to Buddy Dogs, where I adopted Annie, and found Jeremy. A very handsome orange Tabby.
He is very sweet, never hissed at anyone. Amazingly agile, can bounce off walls. And a lady's man. He likes to lie on my chest and touch my face with his paw.
Happy Anniversary to Annie's handsome boy toy, Jeremy!

Melvin and Theodore - aka Mel & T
Tuesday, February 22, 2011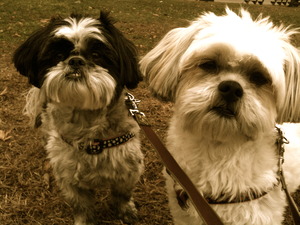 I have been walking these little brothers for a while now, and it is long over due that I should blog about them. They are blood brothers, their personality could not be more different. Melvin has beautiful big brown eyes, he is very outgoing, he likes to lead the way, and is definitely the bossier one. Big white trucks freak him out completely but if we see another dog, he gets so excited he forgets about his fear and goes right over to greet the dog. He also likes to "walk" T by holding his leash in his mouth.
T is a very old soul. There is a legend that Shi Tzus are reincarnated Buddhist monks that were misbehaving, his dad believes that T is one of them. They also think he is their own little Greta Garbo "I want to be left alone", he would go off downstairs and refuse to come up until you go get him.
They are both very good opera singers, I have witnessed it twice, once when they try to get the attention of the squirrels and another time, welcoming me.
At the end of each walk, they would race each other home, Mel wins every day, we are not sure if it is because he is faster or T lets him. Makes me smile every single time.