Pain in the neck!
Sunday, May 15, 2011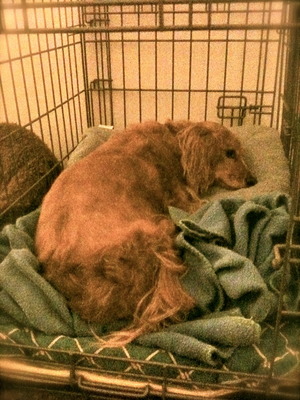 Came home one day, and Colby was not well, every time someone got close to him, he would squeal, he seemed lethargic and was a bit shaky. Took him to the ER at Angell Memorial.
The vet said he has a pain in the neck. Could be a lot of things, meningitis, tumor, but mostly likely a herniated disc. She gave him pain and anti-inflammatory medications and asked me to observe to him for the next few days, especially his motor skills. She also recommended that I get him a harness and a crate. No exercise for two weeks and no more jumping up and down furniture.
It has been 4 days, thank goodness he is back to his normal whiny self. He knows he has a free pass, he'd ask for more treats, and he'd go and eat the kitty food, knowing very well that I would not yell at him. He loves his crate, and is really happy about the "no exercise" recommendation. Everyone wants to go in his crate, every time he comes out, one of his siblings would climb in. My babies are so eccentric.. Coco, you will always be my little drama queen but never a pain in my neck! Hugs and kisses!!