Pretty and cute!
Tuesday, July 26, 2011
World's best litter box!!
Tuesday, July 26, 2011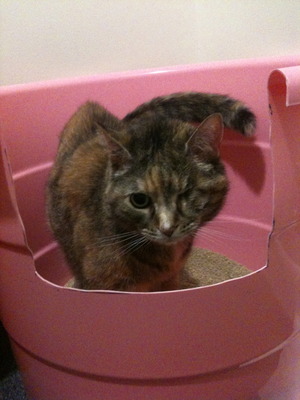 Lately, Annie, her majesty, has not been happy with the litter boxes. While searching on the internet, trying to find a better litter box for her, I came across this article, "The Litter Box from Your Cat's Point of View". Read it, you will learn a lot!

http://catinfo.org/?link=litterbox

"The bigger the box, the more inviting it will be for your cat." Instead of purchasing conventional litter boxes, Lisa suggested we can use storage container boxes. I went looking for one, and did not really like any of the storage boxes out there, they were big and cumbersome. Then I came across a "rope handle tub" for storing toys, 16.5 in H x 21.5 in diameter. Cut a door opening 9 in x 9 in, 8 inches from the floor, again suggested by Lisa.

Annie could not be happier! :)

P.S. Don't worry, she's just modeling in this picture...



I am sixteen going on seventeen
Saturday, July 2, 2011
Sweet sweet Elsa.
She was diagnosed with a heart condition
She was not expected to live long.
That was 10 years ago.
Elsa is sixteen now.
She is fragile but living life to the fullest.
The King and I
Saturday, July 2, 2011

This is what Bartleby said to me today.
Bartleby is a petite Siamese with beautiful blue eyes.
He is curious and likes to investigate.
Greets me by the door and "goes through" my belongings,
like a wife goes through her cheating husband's clothing.
He is a raw foodist and likes his food mixed in with frozen peas.
He reminds me of Yul Brynner in The King and I.
I expected his majesty to tell me any minute that my head shall not be above his.


One fine day with a woof and a purr. A baby was born and it caused a little stir...
Saturday, July 2, 2011

Miguel is a Catdog.
He looks like a cat, he acts like a dog.
He likes to have fun.
He likes to eat.
He taught me to ribbon dance.
He used me as a hurdle.
He cares about appearances a lot.
He is always making sure his hair is in place.
He even helped me fix my hair...with his paw.
He is a lot of fun. Mr. Catdog!