Special dog sitters in Boston
Sunday, September 9, 2012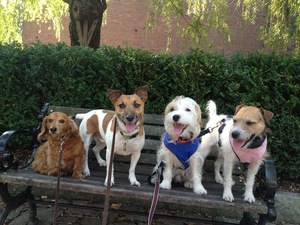 This summer, my babies did their first overnight stays ever.
It was with Miley and Oakley. Two Jacks.
Bailey taught them how to be a proper Jack Russell, while Colby taught them how to turn a few notches down when needed.
We had the best time.
No one was particularly jealous. Miley followed me around a lot and we bonded very quickly.
Oakley was still very much like a puppy, he sometimes wanted all my attention and would get annoyed if I gave Bailey kisses.
It was so fun. We can't wait to do it again.
Thank you babies for helping me out!