Professor Cat
Wednesday, April 6, 2016
Cuddling with his fav girl, Drew!


Your Dogs Best Friend
Wednesday, April 6, 2016
Once in a while you will cross path with someone who would inspire you and might even become your role model or idol.
Steven is my role model.
He is the ultimate dog whisperer, always in command of his pack, playing with them in the off leash area, five or six of them at a time.
He is also a very generous person who has been in the business almost 20 years.
He has given me advice and helped me out numerous times.
Truly the Dogfather in the business. 😎
If you live in the Beacon Hill area, he is your guy,




Mrs. Mallard
Wednesday, April 6, 2016
Finn and his favorite duck mama.


❄️⛄️
Monday, March 21, 2016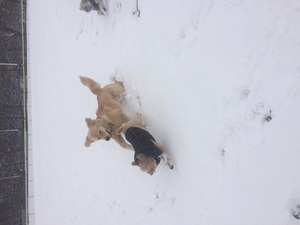 Weeeeeee!!!!
Copley
Brenner
Finn


Jedi
Sunday, March 6, 2016
My Bailey always pick up the longest light saber he can find.


The loves of my life ❤️
Thursday, February 18, 2016
Annie
Lucy
Jeremy


Around the world in 80 mins
Monday, February 8, 2016
My world traveller Colby!

🌎