The cute gang
Tuesday, January 22, 2019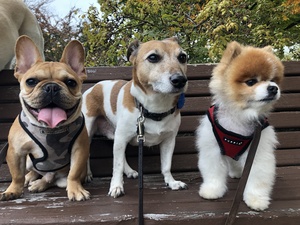 Louie, Bailey & KC


Grandma is healthy!
Monday, January 21, 2019


When I found out from my brother that my grandma (aka mar yad) was in the hospital, I got on a flight to Hong Kong right away.

She had the flu and already recovered but her heart was beating irregularly, and the doctor wanted to keep her in the hospital to monitor it. She had been there for almost a week when I arrived, she was depressed, felt abandoned, and lost her appetite. I was not used to seeing my mar yad like this. She has always been active, happy and healthy. We are very close and I am her favorite grandchild. Luckily they discharged her two days after my arrival. She slowly gained her appetite, she was weak and we helped her walk every where. She has always been very independent and for the first time, she let us help her bath. Slowly day by day, she improved, she started sitting up with out help, walking to the bathroom herself, it will take some time to recover completely, but she is definitely back to her cheerful piggy self :)

I am not a religious person but she is, I thank god that she is well and healthy again. Did I mention she is 102 years old?!

Yesterday, we went to Stanley for dim sum, sat in the sun on the pier, watched fishermen collect fish, shopped and went grocery shopping. We got our favorite, ice cream and custard tart, haha where did you think I got my genes from.

I am grateful to have an excellent team of walkers, sitters, and manager. Without them, I would not be able to make very last minute trip.

I am grateful for my wonderful clients for being so understanding.

I am grateful for my boyfriend who is taking great care of my babies, Bailey and Annie!

I am lucky and I am grateful.




I want to hold your hand.
Thursday, January 10, 2019
This is how my Annie likes to sleep, holding my hand.
I love my baby, I kiss her about 100 times a day :)


Oh Henry!
Thursday, January 3, 2019
Henry brings a smile to everyone who meets him.
Oh Henry! Need I say more.



A very French Christmas
Wednesday, December 26, 2018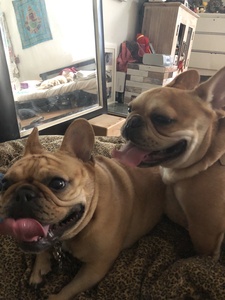 Ellie and Louie stayed at the Urban Paw Print retreat during Christmas.
Louie fell madly in love with Ellie.
It was non stop play the entire time.
My boyfriend warned Louie that he needs to calm down, as Ellie is moving away soon.
Louie said love is love.







Dinner time
Thursday, December 20, 2018
Hazel
Ellie
Lucy
KC
Louie
Bailey
Macy

Nom nom nom



Yikes!!
Tuesday, December 18, 2018
We do not like roomba, no no no, stay away from us.


Santa thinks I'm a very good boy!!!
Tuesday, December 18, 2018
Mama!!!
Look!!! Santa came last night and I must have been a very good boy!!!
Mama!!! Mama!!!

How do I tell him these are for our puppy clients.....



Our Duddy cakes
Wednesday, October 24, 2018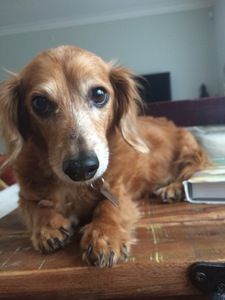 We said goodbye to our very special Colby aka, duddy cakes.
He was diagonsed with cancer in three places a year ago, we decided to go the holistic way which I believe gave us all this extra time with him.
He is the heart of our family, he keeps everyone in place, including when it is time to go to bed.
He tried to kill every single intruder coming into the house by barking them to death.
He is bossy, funny, cute and a big piggy.
He grew up with 3 cats and thought he was one of them until 3 years old when Bailey showed up.
He learnt to "meow" for his favorite treat, greenie.
We love you forever and ever and we hope you will be our baby again in another puppy's body.
When you come back, we will only feed you the best raw food, no more kibbles no more processed food.
We miss you every day.
Our crazy bum bum.